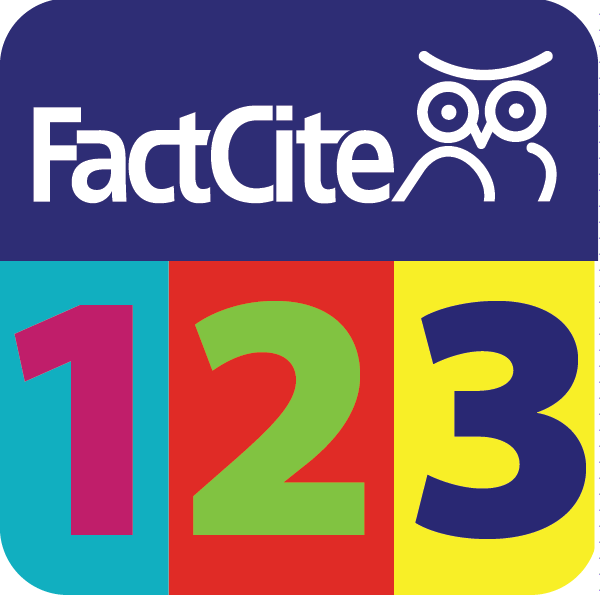 For primary grades, English language learners, and students reading below grade level.
A one-year subscription includes unlimited multiuser access for a single building, plus access from anywhere on any device using a username and password.
FactCite 123 was created for researchers in primary grades. Its stigma-free screen design makes FactCite 123 a great option for use by older students reading below grade level. Students who are learning English also find success in building academic vocabulary using FactCite 123's modules for Social Studies and Science research.
---
Twelve FactCite 123 modules support these research areas:
Biography: 1 module
Mythology: 1 module
Science: 7 modules include the Elements, the Planets, Earth Science, Biomes, Animals, Health, and Simple Machines
Social Studies: 3 modules include Countries, U.S. States, and Landmarks
Audio read-along included in all entries.
NOTE: Combine FactCite 123 with subscriptions to other FactCite databases, and your students will gain access to the unique "Step Up to a Reading Challenge" feature. An icon will appear at the end of a FactCite 123 article. Clicking on it will enable the researcher to access an article on the same subject, at the next reading level. The "Step Up to a Reading Challenge" feature links include:
Biography module articles "step up" to Biography for Beginners (subscription required)
Mythology module articles "step up" to Mythology (subscription required)
Science modules articles "step up" to Science and Technology (subscription required)
Social Studies: Countries articles "step up" to Countries and Cultures
Social Studies: U.S. States and Landmarks articles "step up" to American History