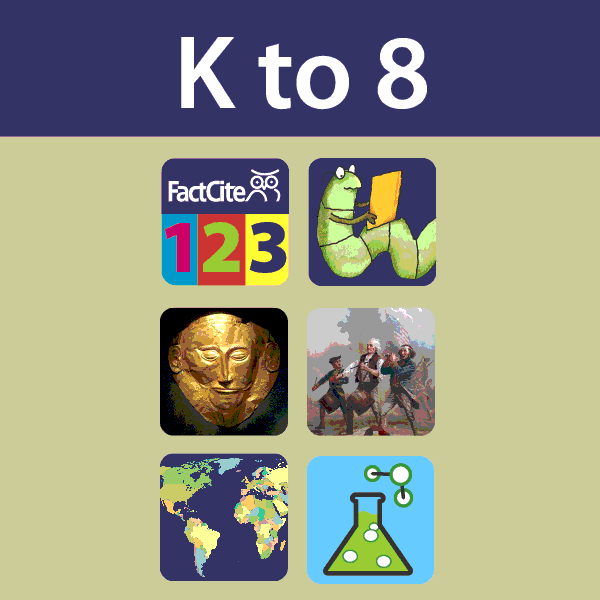 A one-year subscription includes unlimited multiuser access for a single building, plus access from anywhere on any device using a username and password.
FactCite's K-8 Bundle includes six databases that cover the topics most frequently researched in elementary and middle schools.
This bundle supports researchers with a wide range of reading proficiencies. Capitalize on FactCite's "Step Up to a Reading Challenge" feature by inviting striving readers to start their research with FactCite 123. It's written at about a second-grade reading level, but entries link to articles on the same topic in another FactCite database, with content written at the next reading level. FactCite 123's screen design does not carry the stigma of its lower reading level, and modules included support academic research for K-8 researchers.
---
With the FactCite K-8 Bundle, researchers have access to the following databases:
FactCite 123
Biography for Beginners
World Mythology
American History 
Science and Technology
Countries & Cultures databases 
Features of K-8 Bundle:
Device neutral (works on any smartphone, tablet, or computer)
Three ways to search: Keyword, Alphabetical Index, and Topical Indexes
Audio read-along in all entries
MLA 9 citation on every page
NoodleTools integration
"Step Up to a Reading Challenge" linking FactCite 123 to databases at the next reading level
Add to Google classroom
Ongoing updates
Thousands of illustrations
Unlimited access at your library or from anywhere
Remote access included in all subscriptions