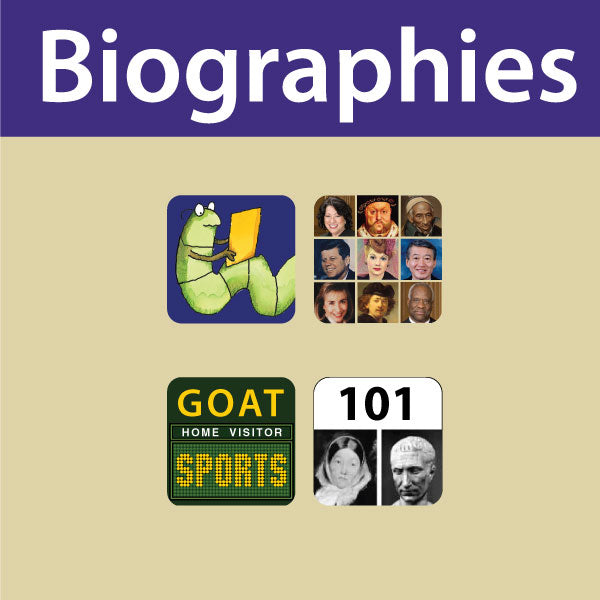 For grades 4 and up.
A one-year subscription includes unlimited multiuser access for a single building, plus access from anywhere on any device using a username and password.
---
Essential Biographies provides a foundation for biography research for students in 4th grade and above. Access four FactCite databases for one subscription price.
Biography for Beginners includes 800+ biographies of 

historic and contemporary figures from Colonial America and notable people in many categories, such as African Americans, explorers, authors, women, inventors, athletes, and entertainers.

U.S. and World Biography includes 10,000+ biographies of notable people, mostly historic, from around the world. Biographies range from short dictionary-type entries on lesser-known figures to longer illustrated entries (2,000-6,000 words) on the people most heavily researched. This database is a great starting point for research. Browsing is easy, using the topical indexes, providing students a springboard to use in selecting a person to research.
Sports Champions features profiles of 750+ athletes who competed in 45+ sports. From 1973 to 2013, the much-loved print edition of this title supported research and browsing in libraries across the country. Now available exclusively online, Sports Champions offers profiles that go well beyond the player's stats. Inspiring stories of overcoming adversity, dealing with setbacks, and personal character are easy to search in multiple ways. Indexes help students discover champions in their favorite sports, including baseball, basketball, football, and hockey, as well as lesser-known champions in sports from archery to weightlifting.
Shapers of Society (101 profiles). Based on a print title, this database features 101 notable people who contributed in significant ways. Profiles include timelines, primary sources, and other features to support research and keep students engaged. Indexes allow students many ways to search and browse.
Features of FactCite Essential Biographies:
Device neutral (works on any smartphone, tablet, or computer)
Three ways to search across all databases: Keyword, Alphabetical Index, and Topical Indexes
Audio read-along in all entries
MLA 9 citation on every page
NoodleTools integration
Add to Google classroom
Ongoing updates
Thousands of illustrations, timelines, and maps
Primary source documents
Unlimited access at your library or from anywhere
Remote access included in all subscriptions